Welcome Aboard, Class of 2T7!
We are so excited to have you join us on the EngSci journey. It all starts here, with our Summer Orientation Program. Buckle up as we venture through the different parts of the orientation program, which include meetups, the EngSci blog, weekly newsletters, and Sci Socials. This is the very beginning of the program and by the end of the summer, we hope that you have a better idea of what EngSci is all about and are better prepared for your transition to university. So join us onboard the EngSci Express where your next adventure awaits. All aboard!! 🚞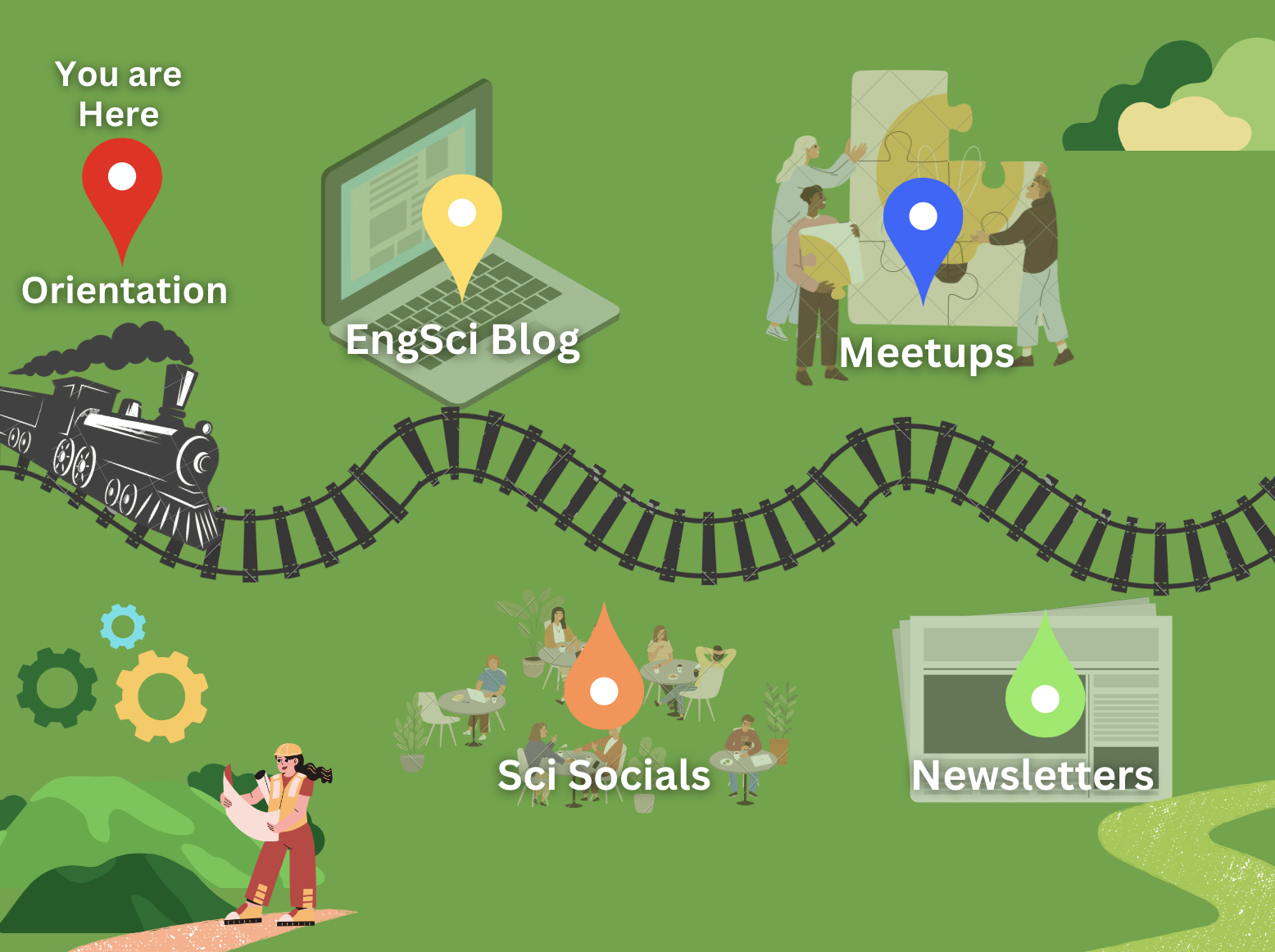 Below, we've compiled descriptions of each part of the orientation to help you navigate the blog and give you an idea of where to find everything you're interested in reading about!
---
The EngSci blog is your one-stop-shop for all things related to summer orientation and first-year EngSci! New posts will be uploaded every week.

The About section sets the scene for the summer orientation program. It contains descriptions of different initiatives, meetup times, the blogpost upload schedule, and quick intros of us, the blog authors.
Want to know what it's like to be in EngSci? Want to learn more about all the cool things you can achieve in this program? What about the EngSci culture?
The EngSci Experience section provides an overview of what you can expect in EngSci and some unique opportunities for you to look forward to. In particular, it features exclusive EngSci interviews with current students and alumni, awesome EngSci-specific clubs, and dispelled EngSci myths.
Learn about all the courses you will take from those who've taken it before you!
The Academics section gives you tips for how to prepare for your first year, read about course descriptions and what a typical week looks like in that course, and gain insights into the major options you can pick after second year. Curious about who your professors might be? This section also features professor interviews so you can get to know them before you start!
The Important Resources section highlights a wide variety of the supports and resources available to you on campus. It covers everything from the EngSci Office to mental health and wellness supports to physical fabrication facilities – all available to you at U of T. These (along with a healthy amount of your favourite educational YouTube channels!) will help guide you through university.
The Professional Development section covers all things related to networking, research, or work experiences that you can get involved in. Learn all about ESEC (EngSci's highly anticipated annual conference) or ways to get involved in research or how to land your dream job. Also learn about professionalism and etiqutte when emailing professors or working on group projects.
Skule* Life
The Skule Life section gives you a peek into what it's like to be in U of T Engineering and the many ways you can get involved. Interested in joining some design teams and clubs? Go check out this section to learn more about all the fantastic groups you can join as a U of T Engineering student, the rich history of Skule, and all its traditions.
*Skule™ is the name of the U of T's engineering community. The name was first introduced almost a century ago when students discovered something that they had in common: engineers don't know how to spell. The Engineering Society trademarked the name in 1984.
Campus Life
Have questions about what it is like to live on residence or commute? Want to know more about where your classes will take place or where to eat on campus?
The Campus Life section has all things related to U of T's St George Campus. You'll find descriptions of buildings you'll use for classes, athletics centres and facilities, labs, study spaces, and more. You'll discover fun things to do in Toronto, and read about U of T's famous food trucks. This section also provides insight to navigate residence life and commuting tips to help you get the best experience possible!
---
Newsletter
To stay up-to-date with new blog posts, meetups, and other orientation initiatives, sign up for our weekly EngSci Orientation Newsletter. Please use your name as it appears on official U of T communications so we know it's you.
Note: If you have already filled out this form in Home, you do not need to sign up again.
---
Meetups
Meet your classmates hear from upper-year EngSci's, and learn more about the U of T Engineering community! We will be holding a mixture of virtual and in-person meetings every week starting June 26, 2023. These will include icebreakers, design challenges, games, activities, Q&As, and more. All meetups aim to help you meet as many of your EngSci classmates as possible over the summer. This way, you'll get to experience the diversity of EngSci and recognize a lot more faces by the time classes start.
The in-person meetups will be held on campus at various locations depending on the meetup; the virtual meetups will be held on Zoom. We will send out the links to the virtual meetups through the EngSci Orientation Newsletter, so make sure you're subscribed! Dates and times for both in person and virtual meetups are posted in the Meetup Schedule.

---
Sci Socials
Do you have burning questions about EngSci that you'd like to ask in a smaller group setting? Or maybe you just want to hang out with us, Esther and Daniel? If so, come to our Sci Socials!  
These Sci Socials will be short 1 on 1 or small group meetings where we'll answer your questions, share our experiences, and help you feel ready to start first year. You can book a 1-on-1 or group sessions via Calendly. To get the links to book Sci Socials, make sure you sign up for the EngSci Orientation Newsletter. 
As always, feel free to email us at engsci.blog@utoronto.ca with any additional questions or if you want to chat!