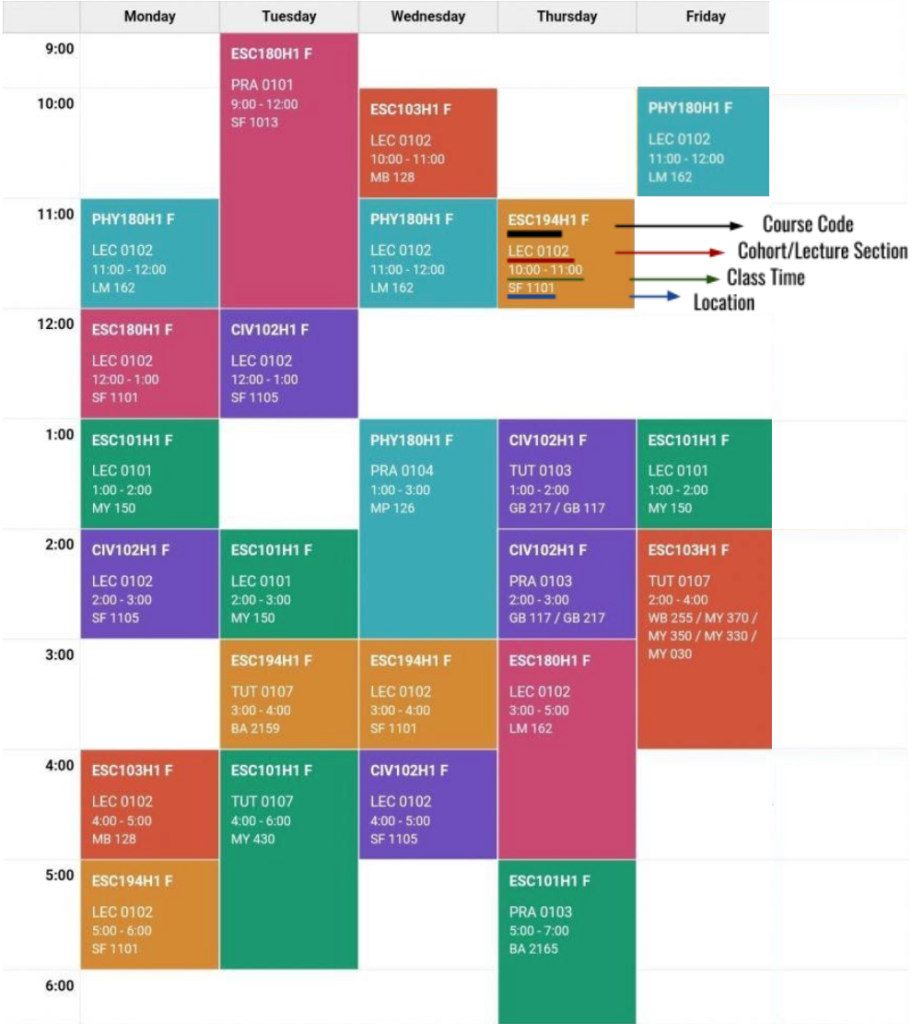 Sample EngSci Fall Semester time table
Just like in high school, you will have a timetable each semester, telling you where lectures, tutorials and practicals for each course take place throughout the week. Above is a sample timetable from an EngSci first year in 2019. You'll be able to see similarities with your timetable for the upcoming semester.
It may seem overwhelming at first glance, but don't worry! For example, the PRA (stands for "practical") time slot for ESC101 from 5-7pm on Thursday is optional time allotted for meeting with your Praxis group if you needed it.
Reading Room Numbers
Don't worry if room numbers haven't shown up on your own timetable yet – they will be added before the start of classes. It is also typical to see time table conflicts between courses this early in the summer as the EngSci team is still creating the schedules. We advise you to wait until mid-August to report any conflicts as they should be resolved sometime before then. Also, make sure to check your timetables right before the first day of classes, as last minute changes may occur.

Room numbers will be two letters followed by three or four numbers, such as GB144 or BA2195. To read these codes you just break it down into two parts:
The first two letters are the building code. For example, Bahen Centre's code is BA, while Myhal Centre's is MY.
(Check out some of the engineering buildings in the Campus Buildings section of our blog.)

The number code is the room number in that building, with the first number being the number of the floor the room is on.

For our two examples: GB144 is Room #144 on the first floor of the Galbraith Building, and BA2195 is Room #2195 on the second floor of the Bahen Centre. If you're having trouble locating any of the buildings for your classes, then check out this great map of campus.
---
Some Things to Note
1. Classes and assessments
All your lectures, tutorials, practicals and midterms in first year will be during the work week (Monday-Friday) from 9am – 6pm. All midterms will have designated time slots (in the timetable above, they are Mondays and Thursdays from 9am – 11am – this may be different for your year). Exam schedules come out later in the semester, but they are usually held Monday to Saturday in either a morning (9:30am to 12pm), afternoon (2pm to 4:30pm), or evening slot (6:30pm to 9pm).
Sometimes, things do not go as planned. A petition, which is submitted through the Engineering Portal, is your formal request for an exception to a Faculty or University rule, regulation or deadline. To read more about petitions, check out the Petitions Website.
2. Lunch
Each day you will have at least one hour-long break between classes to act as a lunch period. Be sure to check out some of our lunch and food recommendations. It's recommended to take this time off, eat, and hang out with friends!


3. U of T Time?
One amazing thing about U of T is "U of T time"! All classes start ten minutes after the hour. For example, if your class starts at 2pm, the instructor will begin teaching at 2:10pm. This gives you time to travel from one class to another as classes are often back-to-back.
4. Back to back classes will most likely be in different buildings
A lot of your classes will be back-to-back and in different buildings, which means that you will travel from one building to another. It may seem odd at first but walking acts as a good break between the long sitting times in lectures! The classes are also usually within reasonable walking distance, plus there's UofT time!